Moving children away from Malnutrition in India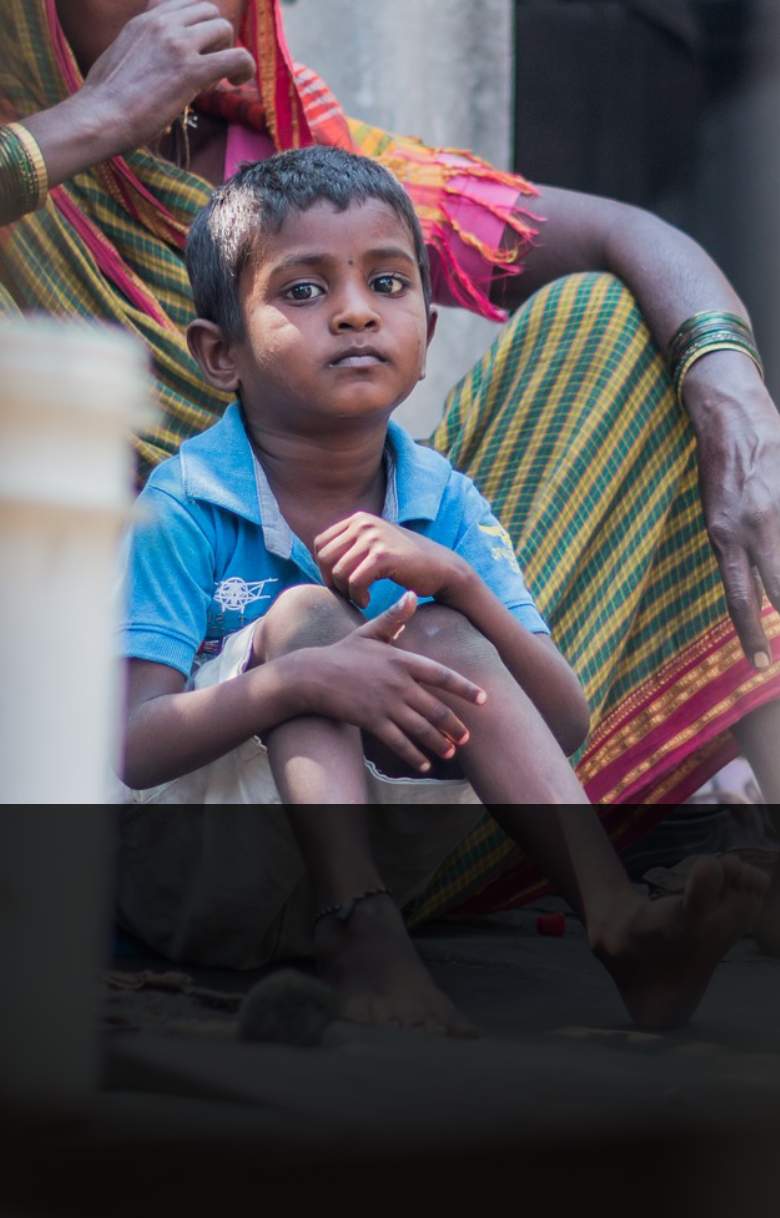 Moving children away from Malnutrition in India
What is the status of malnutrition in India?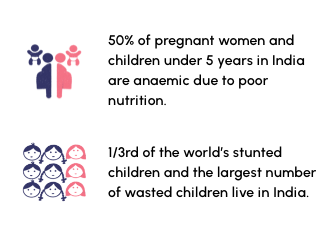 Even in 2020, more than 40% of children in India are undernourished, 50% of the women are anaemic – a fair chance to live their full potential. The ongoing pandemic has made this worse.
The World Health Organization defines malnutrition as deficiencies, excesses or imbalances in a person's intake of energy and/or nutrients.
To focus and solve this issue we classify the community with malnutrition
• Preventable (communities that are food secure and malnutrition is STILL an issue) and
• Malnutrition due to food insecurity (dire poverty, no housing, no WASH, no access to services etc.).
About 50 to 70% of the malnutrition is preventable – these are the communities that we work in. In communities with preventable malnutrition, (including most urban slums and some rich villages), the major causes for malnutrition are poor nutritional choices and incorrect infant and young child feeding (IYCF) practices. These are due to easy access to non-nutritive food, limited financial resources, migration and most importantly lack of awareness.
Malnutrition and maternal health are complex problems – each symptom peeling to a more nuanced reason. While it manifests as poor health indicators for the mother (low BMI, low birth weight of child, maternal mortality) and child (stunted, wasted and underweight), the reasons vary from lack of access to services (health or others), lack of awareness, food and nutrition insecurity, limited financial resources and poor maternal and child care practices.


The causes and consequences of malnutrition
(Adapted from WHO causes of malnutrition)
At the Foundation for Mother and Child Health, we work on maternal health and malnutrition. We empower families from vulnerable community with contextual, timeline and actionable information and services, resulting in health seeking behaviour and nutritious food choices. This leads to better maternal health, reduction in malnutrition and ultimately breaking the cycle of poverty.
Through proven methods and intensive services, we promote maternal and child health and nutrition to enable women and children to reach their full potential, both physically and intellectually. This leads to better maternal health, reduction in malnutrition and ultimately breaking the cycle of poverty.
We have worked with over 60,000 families across low income slums of Mumbai to change these dire numbers. Our vision is a world of healthy mothers and thriving children. Through our programs we have seen a 48% reduction in wasting, improved birth weights to 2.7kgs (from 1.5kgs), increased the breastfeeding rate (up to 70% increase in some of our interventions; 25 PP higher than the national average) etc., all indicators moving children who are malnourished to regain a state of better health. We have over 30 partners across India.
How do we do this?
Maternal health and malnutrition is a complex issue; therefore, we take a systems approach to our work. We believe if families have access to contextual, actionable and timely information in the first 1000 days of the child's life, they will make the right choices for eradication of malnutrition and eventually breaking the cycle of poverty.
We do this through 3 key interventions: education sessions in the community, home based counselling and systems strengthening. Each of these is interventions have a strong technology component for monitoring and maintaining quality at scale. Sustainability has been built into the programme by engaging with the communities and government systems.
Healthy mothers and thriving children for a world of unlimited possibilities.
At the Foundation for Mother and Child Health India, we focus on encouraging preventive health, balanced nutrition and child developmental practices in underprivileged communities. To achieve this we adopt a holistic approach, by embracing, educating and empowering mothers and children in their social environment.