OUR VISION
Healthy Mothers and Thriving Children for a world of unlimited possibilities.
OUR MISSION
At the Foundation for Mother and Child Health India we focus on encouraging preventive health, balanced nutrition and child developmental practices in underprivileged communities. To achieve this we adopt a holistic approach, by embracing, educating and empowering mothers and children in their social environment.
Our Operating Model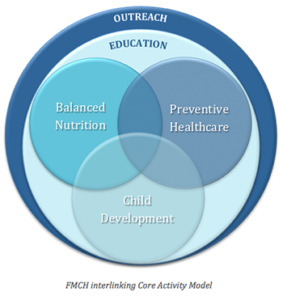 Nutrition-Specific Interventions:
Project Poshan
It is a well-established fact that poor nutrition during the First 1000 Days of a child's life (day one of pregnancy till her 2nd birthday) can cause irreversible damage with life-long consequences. At FMCH we work actively with pregnant women and children up to the age of two, to ensure that they have the knowledge and support to pass through this critical window in good health.
We also work closely with the families and community at large to promote good health, hygiene and nutrition practices.
Through this initiative, FMCH provides access to:
Trained professionals (doctors, nurses, nutritionists) for medical and nutrition assessment, advice and support.

For children, special support and advice to ensure early initiation of breastfeeding, exclusive breastfeeding, initiation of correct complimentary feeding regime at the right time.

Accurate and trusted information regarding health, nutrition and child care through a range of education sessions designed for the mothers/primary caregivers and other family members.

Continuous and rigorous monitoring and follow-up for individual beneficiaries through the entire period of their engagement with FMCH.
URBAN NUTRITION INITIATIVE (UNI)
An initiative conceptualised and led by Rajmata Jijau Nutrition Mission to address malnutrition issues in urban districts of Maharashtra with a high burden of underweight status among children. FMCH has undertaken this initiative in order to achieve key organisational goals of sustainability and scale.
FMCH is the implementation partner for the Thane-Bhiwandi- Nizampur project area, working with 140 ICDS centres, reaching out to 140,000 people.

FMCH is working on implementing the 10 Essential Nutrition Actions through the channel of ICDS for women and children who fall under the First 1000 Days period in the area.

The initiative provides an opportunity for FMCH to not only to reach an underserved population but also, to share our knowledge and approach with government workers in the hope that the best practices will be taken up by the government for long-term change.
Incubation And Scale-Up Models:
FMCH Training Center
Over the past three years, FMCH has engaged with various agencies (NGOs, hospitals, government agencies) who want to manage malnutrition in their own communities.
Through the FMCH Training Center that was launched in May 2015, FMCH formalized this vertical with the objective of developing a cadre of professionals across Maharashtra and eventually the entire country who are equipped with correct knowledge and best practices that would reach a much larger community beyond the direct reach of FMCH, further empowering the battle to mitigate malnutrition.
The FMCH Training Center was also conceived with the idea of being an incubator of new ideas and models for nutrition-specific interventions that can eventually be scaled-up.
We also work closely with the families and community at large to promote good health, hygiene and nutrition practices.