It's beginning of another week and Saba, Sarita Gupta, Reshma and Sarita Powar (four community organisers) are walking in the slums of Jhari Mari (urban slum of Kurla) door to door and calling the mothers from their areas for a regular check-up for the children. People are greeting them on their way. Some women are promising them to join while some women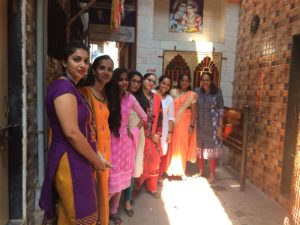 are just ready waiting to come along with them. There are few women and family members who need a little more push and these four are not letting any stone unturned to convince them and move from their door when they give a nod. Meanwhile Pragya and Shweta are setting up the clinic and waiting for the children to come in. As the women enter, the routine check-up starts – The anthropometric measurements followed by nutritional counselling and medicines in case of any health concern. The children are playing around and community organisers are engaging them while mothers are being counselled by Pragnaya and Shweta. A similar routine follows for other activities like pregnancy club, accha bacha class and nutrition course at the Kurla Centre of FMCH. Sarita shares "I feel that everyday going in the community and giving them a reminder that they have to attend their class or clinic is very important to our project's impact. It makes that personal contact stronger and beneficiaries feel that we are with them and not just mere delivering services through our centre" But, things were not like this before. FMCH had partner with ICDS and WIPRO in 2017 to specifically work with 24 Anganwadi Centres reporting high incidence of child malnutrition. For phase 1 it was decided to roll out the program on 8 Anganwadi centres. 
The program aims to prevent chronic malnutrition among children in the First 1000 Days in a community setting through nutrition-specific interventions on the 24 Anganwadi Centres of Jhari Mari. 
Jhari Mari has been known for few challenges. The baseline survey revealed the reliance of community women on processed foods and tea as breakfast options for children. Majority children consumed tea twice daily. Also delayed health seeking behaviour during antenatal period of women was witnessed. Community had a strong resistance for tetanus immunization during pregnancy which they believed to cause infertility. Further the community becomes waterlogged in monsoons. These were critical hurdles that would come in successful rolling out of project. 
Also, FMCH believes in designing sustainable interventions/ solutions as in long-term the community is self-sufficient to carry forward the key learnings of the intervention. Thus, to address the challenges of the community and ensure sustainability it was then decided that the project team should emerge from community. Faces that community already relates to and ones who are aware of the current attitudes and practices of Jhari Mari. This led to formation of this core team of community women. Together they have been working since 2017 and have not only helped FMCH to leave an impact in community but also bring a change in their outlook and feel empowered within. Saba shares "since we stay here, people know us and this has really helped us. People opened their doors for us and accepted what we had to share them. The most interesting part is when we counsel them for myths and certain behaviours to avoid. They first react and show their resistance but when we rationale them; they accept our information and practice that. They cme back and share with us that how it has helped their kids. It is a great feeling"
The team has left a lasting impact.
reaching out to 2195 families (under 8 anganwadi centres) and

registered around 300 + children and 60 pregnant mothers. During this period FMCH conducted

anaemia testing of 122 children and around 60 pregnant mothers

The beneficiaries were provided with nutrition counselling on iron rich foods and further referrals to primary health center's and hospitals.